Soor Fuel Marketing Conducts its First Draw and Awards Customers
28/08/2011 08:41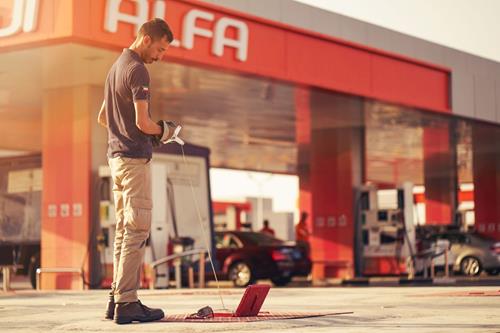 As Part of its Ramadan Campaign
Habarado Badalji wins a 2011 Car
Kuwait August 9rd, 2011
SOOR Fuel Marketing Company is enthusiastic to award the winners of the first draw as part of its latest Ramadan Campaign; "Fill Up and You May be Winner". The campaign was launched on Friday August 5th during a press conference and a fun filled event at its station marking it to be the first of its kind campaign by a fuel company in Kuwait. The concept of the campaign is that any customer filling their cars from any of Alfa's 40 stations in Kuwait will automatically enter a draw to win valuable prizes.
The lucky winner of the Chevrolet Cruise 2011 car was Habarado Badalji who was invited by SOOR to receive his prize at its station besides Shaeb park. Other lucky customers won prizes such as iPads, iPhones, free accommodation at Khalifa chalet, free checkups from Maidan Clinic and spa vouchers from Trim Club.
Commenting on the first draw of the Ramadan campaign, Salem Al Hassawi Senior Manager Sales and Marketing said: "We would like to congratulate our lucky winner for this week and look forward to award many more winners in our next three draw. Our goal behind the campaign is to stay close to our customers and reinforce our relations with them."
The idea of the Ramadan Campaign emerged as a gesture to thank all of Alfa's customers for their loyalty and award them with prizes during the holy month of Ramadan. There will be three more draws to take place every Saturday. To enter the draw, all you need to do is fill up your car from the nearest Alfa gas station then send your receipt number to your telecom operator; Zain: 93318, Wataniya Telecom: 1547 and VIVA: 50140 and will be automatically eligible to be winner.
For more information about SOOR Fuel Marketing Company and its various services please visit the website on www.alfa.com.kw or call customer service on 1841010 for further assistance.